Biography
---

Donna Anita Nikolaisen

Drawn to the magic of the stage from a young age, Donna embraced acting at Cork's Monfort College and her earliest performance was at The Cork Cat Club. Her love for both acting and music meant that she first stepped on a Dublin stage in the musical 'Evita' with The Guinness Players and 'South Pacific' with the Pioneer Musical Society. Her first dramatic role in a play was that of Margaret in 'Much Ado About Nothing' with The Dublin Shakespeare Society.
After subsequent training with the Stanislavsky Studio at The Focus Theatre and in BelCanto Voice she went on to pursue a career in acting. She portrayed characters such as the formidable Mrs Muller in 'Doubt'; the embattled Silk Campbell in 'No Irish No Blacks No Dogs'; the straight talking Lebanese journalist Rima in 'Talking to Terrorists'; a terrorised mother in 'Tea Chests and Dreams'; one of the warrior Bacchae in 'The Bacchae of Baghdad' at The Abbey; and the fragile yet feral Bertha Mason in 'Jane Eyre' at The Gate;
Her TV break came in 2013 with the role of Zambian nurse 'Ama Chisenga' on the TV Soap 'Fair City'. Playing the stoic yet fun loving Ama, an outsider who finds refuge in Carrigstown, was a career changing role. Since leaving the show in 2017 Donna won Best Supporting Actor at the 2018 Underground Cinema Festival for her role in the powerful award-winning short film 'QED', directed by Amy-Joyce Hastings. Donna continues to book exciting new roles in TV and Film, namely 'Lucy Doyle' in 'The South Westerlies' (2020), 'Louisa Short' in 'Blood – Season 2' (2020) and 'Grace Ture' in 'Sweetness in the Belly' (2019), to name but a few. As a voice over artist she is represented by Voice Bank and is the voice of numerous campaigns and documentaries. Donna's love for music lead to her 2019 online release of debut EPs 'Lore Bealtaine' and 'Lore Samhain' – a collection of twelve songs drifting between the desire to hold on and the need to let go.
Awards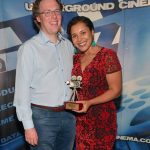 Donna won Best Supporting Actor for her role as Ali, a young woman dealing with a tragic event in her life, in the powerful short film 'QED' at the 2018 Underground Cinema Film Festival.
Directed by Amy-Joyce Hastings 'QED' was selected for the 2018 Cannes Short Film Corner and won Best Overall Short Film at the 2018 Santa Fe Film Festival and New Mexico Film Festival.
---
Representation
Donna is based in Dublin and is represented by Julian Benson Management in Ireland and by Byrons Management in the UK. As a voice over artist she is represented by Voice Bank  and is the voice of numerous commercial campaigns and documentaries.
---
Training
Acting for Camera Course, Film Venture
Stanislavsky Studio (2 years), The Focus Theatre
Chekhov Workshop, Rayla Tadjimotova
Meisner Workshop, Momentum Acting Studio
Jazz Ballet Course, Elena Degtyareva
Voice (1 year), BelCanto School of Voice
Music Theatre (1 year), Waltons School of Music
LAMDA Speech & Drama (3 years), Montfort College
Web Designer at Visual Aspects 
BSc Business Information Systems (Hon), UCC
Full Drivers Licence