---
Played with graceful exoticism by Donna Anita Nikolaisen, Bertha is as savage on this 21st-century stage as she is on the 19th-century pages. She brings gothic mysticism to an otherwise realistic work, portraying horror and beauty simultaneously, pointing to the era's racism.
– Eithne Shortall, THE SUNDAY TIMES
Jane Eyre, The Gate Theatre 2010
---

---
The Book Show on RTE Radio 1
Listen to The Book Show April 22nd Edition
In this special hour long episode Sinéad Gleeson speaks to British writer Linda Grant about the life and work of Jean Rhys (1890 – 1979). She is the Dominican born author of many stories and novels set in England, Paris and the Caribbean. They are stories of women who struggle with poverty, alienation, alcoholism and their reliance on (often uncaring) men. Writer Colm O'Shea looks at Rhys' most famous novel Wide Sargasso Sea – a 'prequel' to Jane Eyre – and discusses the world of bedsits and hotels her characters inhabit. We also hear readings of Rhys' work by the actress Donna Anita Nikolaisen.
---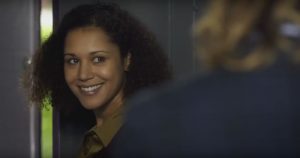 Keys4Homes
Watch Advert Online
Directed by Kieron J Whelan with the involvement of Oscar winning director Lenny Abrahamson. This piece, written and conceived by Laura Halpin and Ronán Jennings (Havas Dublin), perfectly captures the reality of homelessness in Ireland today whilst treating the subject with the dignity and respect it deserves.  The cinema ad is being aired in 72 cinemas nationwide. Donate €4 to Peter McVerry Trust by sending KEYS4HOMES to 50300.
---

Fair City 
Watch on RTE iPlayer
After fleeing an arranged marriage in Zambia and finding herself homeless on the streets of Dublin, Ama Chisenga knows only too well how tough life can be for an immigrant in Ireland. Feisty and determined, she has carved out a new life for herself in Carrigstown where she runs the local medical practice and has her fair share of adventures and romantic entanglements. 
---
Under Which Flag?
Read Press Release
Under Which Flag? was first performed in Liberty Hall in March 1916, just a month before it's writer and director, James Connolly, went out to lead the rebel forces in the Easter Rising. Sabina Coyne-Higgins, wife of President Michael D Higgins, will take to the stage in a rehearsed reading performance of Under Which Flag? in the Liberty Hall Theatre, where it all began. Donna reads and sings in the role of Mary O'Neill.
---
'The Bear'  &  'The Proposal'
True Voice Theatre

True Voice Theatre is happy to announce a double bill of Anton Chekhov's short comedies 'The Bear' & 'The Proposal'. Watch this space for upcoming tour dates in Dublin this summer.
---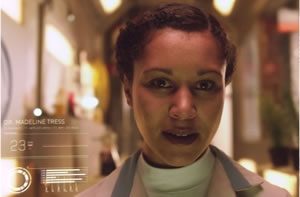 'Halo Nightfall'
Watch on Halo Channel
Watch Donna's Sci-Fi debut as Dr Madeline Tress, Operational Attaché for Astrophysical Phenomenon, in Scott Free Productions web series HALO Nightfall – Reckon 14
---
#WTF International Women's Day
Let's include everyone in the story
2 Apr, 2016
Speech read by Leah Minto at Liberty Hall, Dublin as part of International Women's Day and the Waking the Feminists movement.
"When I first decided to become a professional actor my sister Jacqui warned me that it would be hard to find roles in Ireland owing to my ethnicity. "It's a visual medium" she said, "You don't look Irish Donna!" I didn't believe her. After all, I was born in Holles St and brought up in Cork. Sure, how much more Irish does a girl need to be? However, in time, I grew to learn that she was, for the most part, right. Most of the roles in theatre that I have been lucky enough to play have been race related. And although it gave me great pride to play these characters, who both needed and deserved a voice, it also deeply frustrated me that I was somehow excluded from many roles in classic, period and contemporary plays. Actors need roles not just to make a living but more importantly to develop their craft. Read more…
---
CONTACT DONNA
LONDON, UK

BYRON'S MANAGEMENT
41 Maiden Lane, London, WC2E 7LJ
t. 0044 20 – 7242 8096 | e. office@byronsmanagement.co.uk | w. www.byronsmanagement.co.uk
---
DUBLIN, IRELAND
JULIAN BENSON MANAGEMENT
The Production Suite, 26 Upper Pembroke Street, Dublin 2, Ireland
t. + 353 1 6764377  |  e. jbp@julian-benson.com
---
For all other enquiries send an email to donna@donnaanita.com
---