PRODUCTION / ROLE / COMPANY / VENUE / DIRECTOR
2021, HOME: PART ONE, Reader of Testimony from Christine Carrol – Tuam Mother and Baby Home, The Abbey Theatre
2016, THE BEAR & THE PROPOSAL, Elena Popova & Natalya Stepanova, True Voice Theatre, Joe Devlin
2015, I WANT TO KNOW, Nurah, Shiva Theatre Company, Aoibheann Gilroy
2014, TEA CHESTS AND DREAMS, Helen, The Axis, Mark O'Brien
2013, NO IRISH NO BLACKS NO DOGS, Silk Campbell, Morton Film & Media, Shane Gately
2010, JANE EYRE, Bertha Mason, The Gate, Alan Stanford
2009, DOUBT, Mrs Muller, Shift Theatre Company, Joyce Ward
2009, BIRDBATH, Velma Sparrow, True Voice Theatre, Paddy Kelly
2009, FEVER DREAM, Various, Liberty Boy Productions, Gerry Wade
2008, NEVER AFTER, Reem, Tabs Theatre Company, Victoria Fradgley
2008, CHARACTER, Savannah, Decadant Theatre, Andrew Flynn
2007, BED DEATH, Thea Walsh, Blue Runner Theatre Company, Shane Carr
2007, TALKING TO TERRORISTS, Rima, Calypso Productions, Bairbre Ní Chaoimh
2007, ONCE UPON A TIME & NOT SO LONG AGO, Sarah Byrne, O'Reilly Theatre, Bisi Adigun
2006, A FOOTPRINT OF ROSES, Constance, Amnesty International, Catherine McFadden
2006, THE BACCHAE OF BAGHDAD, The Bacchae, The Abbey, Conall Morrison
2005, THE CRUCIBLE, Tituba, Blue Moon Theatre Company, David Byrne & Paul Ward
2004, MUCH ADO ABOUT NOTHING, Margaret, Dublin Shakespeare Society, Joe Jordan
2003, SOUTH PACIFIC, Bloody Mary, Pioneer Musical Society, Pegeen Coleman
2002, EVITA, Cast, Guiness Musical Society, Noel McDonagh
---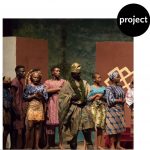 THE OTHER WAR (2017)
Festabit |The Cube Space, Project Arts Centre, Nov 19th 2017
A rehearsed reading of The Other War by a multicultural cast. Followed by a discussion with Cathy Leeney and Eritrean author, Alemseged Tesfai.
Donna reads the part of Astier.
---
CANALETTO (2017)
Ranelagh Arts Centre, Dublin

Rehearsed readings of 'Canaletto' and 'A Bridge To…?' by Brian McAvera.
Directed by Joe Devlin.